ホーム > 英語通信 > Winter Vacation in Hawaii!
Winter Vacation in Hawaii!
Hello everyone! Merry Christmas and a happy new year!
This winter vacation Kyle and I went to Hawaii to see our families. We stayed in a condominium on the island of Maui. The weather was perfect, and we had a lot of fun. We did a lot of exciting things like snorkeling, surfing, and swimming, but the best part of the trip for me was eating, drinking, and relaxing.
Here's a picture of the place we were staying. Our condo was at the top of a grassy hill. It took about 2 minutes to walk down to the beach and 4 minutes to walk back up to the condo. Pretty nice location, don't you think?
During the holidays in the U.S. people eat a lot of food, and I was no exception. At many restaurants in America, the portions are enormous. At some places a "normal" meal is two or three times the size of a meal at a restaurant in Japan. Here is a cheeseburger that I'm just about to sink my teeth into. It was so big that I could only just barely take a bite out of it.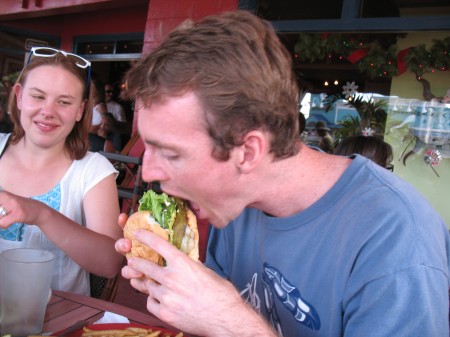 It had been a really long time since I had gone surfing, so I really wanted to surf while I was there. I missed being out in the waves, getting knocked around, and occasionally riding a wave. Unfortunately, on our side of the island the waves were very small. That being the case, we decided to go stand up paddle boarding. It is similar to surfing, but you have a paddle like in a kayak, and you stand up the whole time. It was pretty fun. I even managed to catch a few ankle high waves.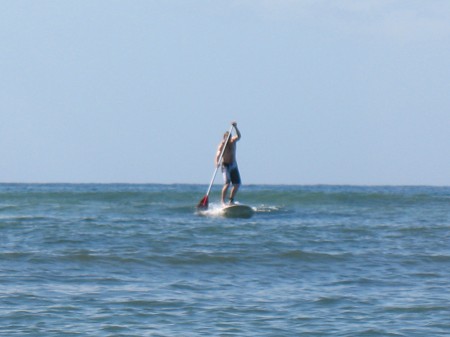 Every night the sunset was so beautiful. Most of my pictures from the trip are of the sunsets. I took so many throughout the course of each sunset. This picture is one of my favorites. The sun is shining through a Bird of Paradise flower. It is called that because it looks like a tropical bird.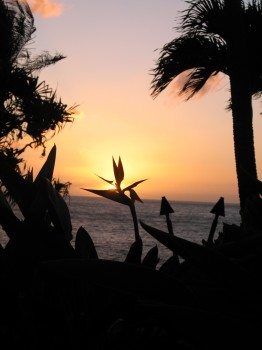 To get to Hawaii and back we went a kind of roundabout way. First, we took the bus from Obihiro to Chitose. Then we flew to Seoul, South Korea. From Seoul we flew to Honolulu, and then finally, we flew to Maui. The travel time from our apartment to the condo was about 24 hours. Then when the trip was over, we went back to Japan the same way we came. This next picture of Kyle shows how tired we were during our trip home.