ホーム > 英語通信 > Good Morning, Obihiro!
Good Morning, Obihiro!
Hello, Beautiful Beings!
Are you a morning person, or night owl? I am definitely a morning person. When I can, I like to get up early in the morning. I like the sound of morning, especially when the birds are chirping. If I get up early, I like to practice yoga and meditation. I enjoy a good cup of tea. Peppermint is my favorite. I feel peaceful at this time of day. After relaxing and stretching, I make breakfast. My favorite thing to make for breakfast is pancakes. Sam makes the best pancakes but mine taste good, too! I also like eating eggs, vegetables, and rice in the morning. I almost never eat fish in the morning. What's your favorite thing to eat for breakfast?  I sometimes like to read while I eat. If Sam is awake, we talk and make plans for our day. What is your morning routine like? Are you in a hurry or do you go slow?
Here is a picture of my pancakes. In New York, my dad makes syrup from Maple trees. In Japan, real maple syrup is very expensive. I use honey instead!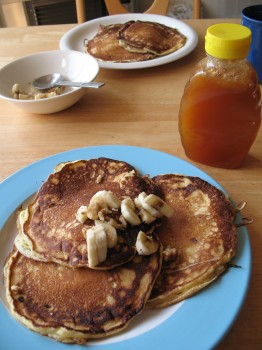 Here is another breakfast.
I like doing yoga everyday!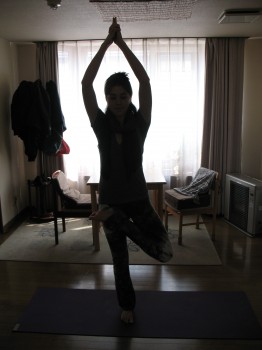 by kyle / 2011-04-22 4:38 PM / Past Teachers