ホーム > 英語通信(外国人講師のブログ)
Hello everyone. How is the weather treating you? I hope you are keeping warm this winter.
This past Monday was a holiday, so I decided to do some volunteer work during the long weekend. I went to Lake Shikaribetsu to help construct the ice village. Every year for the past thirty years, a group of people have built a village on Lake Shkaribetsu using only snow, water, and ice as building materials. The ice village includes a wide variety of facilities, including a theater, an ice bar, an ice lodge, and even an ice spa.
The work was pretty strenuous, and after two days of work, I was thoroughly sore. The hardest part was using a jackhammer to level an ice floor, and dig a trench. I also helped assemble some scaffolding to create a temporary floor, I helped erect some wooden arches that were used as temporary ceiling supports, and I carried a lot of tools, ice, and slush.
Here's a picture of me taking a break from laying some ice bricks.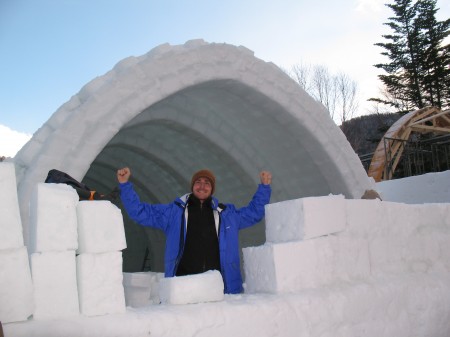 From a language learning standpoint, it was great for my Japanese. I learned a lot of words that I probably wouldn't have learned in a classroom. For example, they were often telling me to carry something from one place to another, so I learned the verb for carry. I think it is good to learn a language in a lot of different environments.
The weather was pretty nice for most of the two days I was there. It did snow a little bit but it was light and pretty. Here's a picture at the end of the second day. The outer wall was almost complete and it was just starting to snow. Yes, that is a snowflake, not the full moon.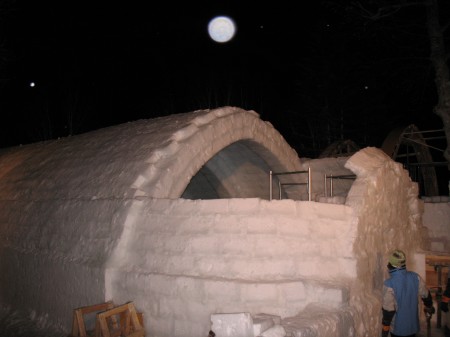 The ice village is scheduled to be complete and open to the public on January 28th, but if you would like to see it before that you can volunteer. To volunteer, just call the Shikaribetsu Nature Center in at least a day in advance, and let them know you would like to help. Their phone number is 0156 69 8181.
by Sam / 2012-01-11 6:47 PM / Past Teachers /
コメントは受け付けていません。
by Sam / 2012-01-04 8:13 PM / Past Teachers /
コメントは受け付けていません。
by Sam / 2011-07-05 6:41 PM / Past Teachers /
コメントは受け付けていません。
by Sam / 2011-05-23 6:52 PM / Past Teachers /
コメントは受け付けていません。
by Sam / 2011-04-28 7:31 PM / Past Teachers /
コメントは受け付けていません。
by kyle / 2011-04-27 10:39 AM / Past Teachers /
コメントは受け付けていません。
by kyle / 2011-04-13 10:26 PM / Past Teachers /
コメントは受け付けていません。
by kyle / 2011-03-30 10:21 PM / Past Teachers /
コメントは受け付けていません。
by Orin / 2011-03-24 5:45 PM / Past Teachers /
コメントは受け付けていません。